Flow Measurement for Steam, Liquid and Gas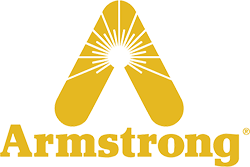 State-of-the-Art Flow Measurement Solutions
We provide an extensive selection of differential pressure flow elements, vortex, electromagnetic, and ultrasonic meters, as well as our revolutionary VERIS Accelabar® flow meter, which may be installed without the need for straight pipe lengths.
Armstrong Electromagnetic BTU and Flow Meter
The high-performance Armstrong Electromagnetic Flow Meter (AMF-F) precisely gauges the volumetric flow of all conductive liquids, including water, salt water, sewage, pulps, slurry, acid, alkali, and any mixture of liquids and solids with a conductivity of at least 5 S/cm.
Reliable Performance
Due to the microprocessor and unique integrated circuit, Armstrong's electromagnetic flow meter has advantages such as dependable performance, high accuracy, and great ease of use. Only a 7D total straight pipe run, including 2D downstream and 5D upstream, is required to attain high precision. A broad measuring range (-39 to 39 ft/s) is guaranteed by the fast CPU and sophisticated signal processing technologies. The measurements and parameter settings are comprehensive and practical thanks to the two line LCD display.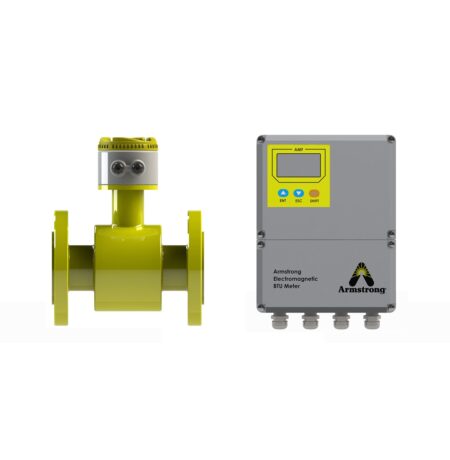 Armstron Ultrasonic Flow Meter and BTU Meter
For long-term flow measurement on a closed pipe conveying pure liquids or liquids with some suspended particles, the Armstrong Ultrasonic Flow Meter (AUF) is intended to be put at a fixed site. Clamp-on transducers will be included with the AUF to address a variety of application concerns.
Reliable Performance
Armstrong's Ultrasonic Flow Meter has the following benefits: no moving parts or maintenance, factory calibration that is NIST traceable, multi-frequency system, thermal energy measurement, no shutdowns or pipework required for installation, and choice of BACnet, GPRS, RF wireless, RS485/MODBUS communication protocols.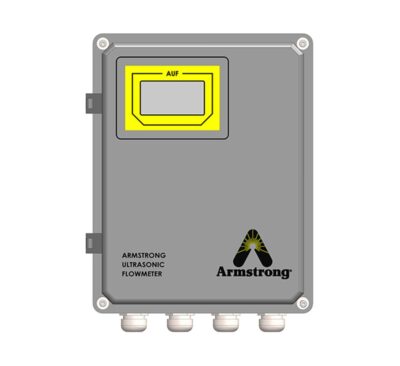 Ultrasonic Portable Flow Meter and BTU Meter
The most portable yet potent flow/BTU meter available is the Armstrong Ultrasonic Portable Flow Meter (AUP) hand-held device. The device can consistently and accurately monitor liquid flow, temperature, and thermal energy from outside of a pipe thanks to the use of our exclusive technologies, such as ultrasonic signal processing, signal quality tracking, and self-adaptation as well as high density circuit architecture.
Convenience on the Go
The advantages of Armstrong's Ultrasonic Portable Flow Meter are thermal energy measurement, bi-directional flow, non-intrusive installation, and data logging all in a convenient portable package.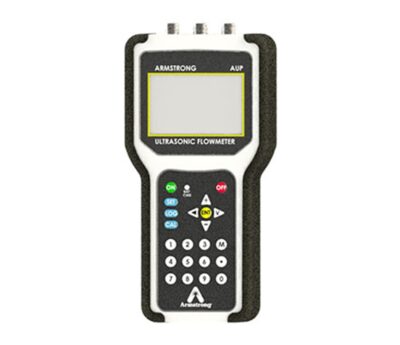 Flow Nozzle
The ASME Flow Nozzle is a high-performance, dependable measurement tool that complies with ASME MFC-3M, ASME PTC-6, and ASME PTC 19.5 regulations and may be placed in a variety of design and material configurations.
The ASME PTC-6 Flow Nozzle offers the high accuracy and precision needed by ASME PTC-6 in applications for testing steam turbines. A flow conditioner for increased precision, a diffuser cone for less pressure loss, and either a flanged or weld-in flow nozzle make up the assembly.
Available in line sizes 4" to 24" (101.6mm to 609.6mm) with perforated plate or tube bundle flow conditioner, flanged-in or weld-in end connections, and four integrally machined throat pressure taps that are precision-machined and polished.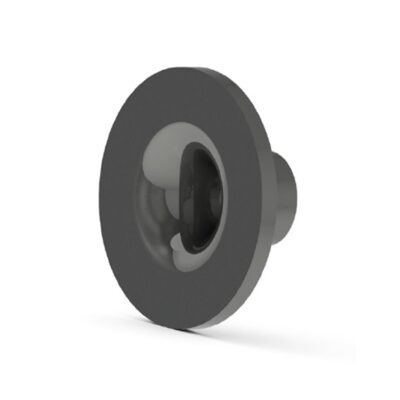 Orifice Plates & Flanges
The most used differential pressure measurement tool is an orifice plate, which can measure pressure in low-velocity steam, clean liquids, and gases.
Orifice plates enable rather simple installation and replacement if process parameter changes or life cycle degradation are present.
Armstrong provides the flange unions, gaskets, orifice plate, and suitable pressure tap sets needed for a conventional orifice meter installation.
Armstrong produces orifice plates with high quality and strict adherence to ASME and ISO 9001 certification criteria. The orifice plates also adhere to applicable AGA, ISA, ANSI, and API regulations.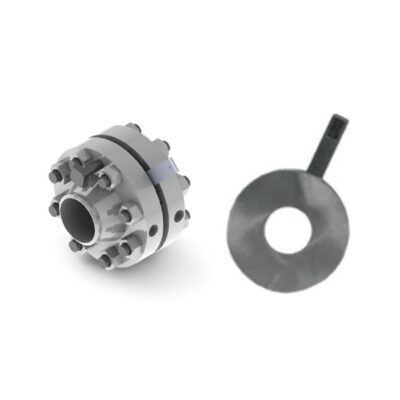 Venturi Tube Flow Meter
Numerous flow measuring applications have long called for and utilized venturi tubes. A Venturi meter is a widely used differential pressure flow element due to the variety of measured fluids, line sizes, and construction materials that are available to it.
Armstrong provides long form and short form classical style Venturi tubes that are made in line with the relevant ASME codes.
The Halmi Venturi Tube, which has greater performance and design with shorter laying lengths and lower cost, is additionally available.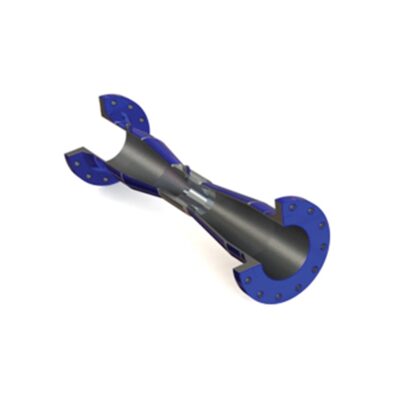 Veris Accelabar
A brand-new and distinctive flow meter called the VERIS Accelabar® combines two differential pressure technologies to enable operating ranges never before possible in a single flow meter. With no need for a straight route, it may provide large differential pressures for monitoring gas, liquids, and steam at turndowns that were previously unachievable.
How it Works
The Accelabar® is made up of a Verabar® averaging pitot and a special toroidal nozzle design. The velocity profile measured by the Verabar® is accelerated, linearized, and stabilized by the nozzle's innovative straight run "settling distance" The Verabar® inside the nozzle precisely measures the differential pressure output and boosts it significantly to widen the working range (turndown). The Accelabar® gives results with an accuracy of up to 0.50% and a constant flow coefficient.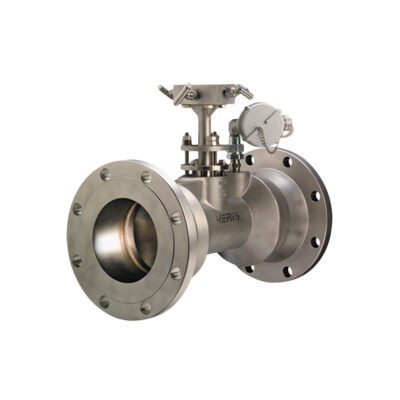 Veris Verabar
For measuring gas, liquid, and steam, Verabar® offers the most precise, dependable technology at the lowest operating and installation costs.
How it Works
A high-pressure zone develops in front of the sensor when a fluid strikes it. A low-pressure zone develops to the sides and back of the sensor as the fluid accelerates around it. An averaged differential pressure is detected by placing multiple sensor ports in these high- and low-pressure regions.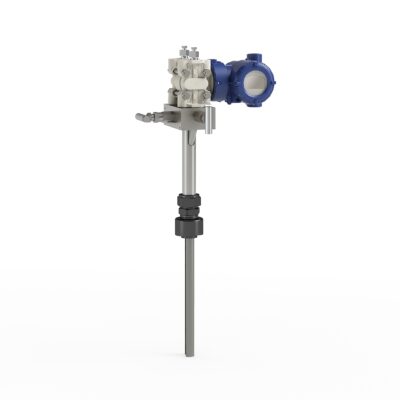 Vortex Meter: In-Line and Insertion
Vortex technology is available from Armstrong International for the monitoring of steam, liquid, and gas flows. AVF in-line versions offer multivariable measurement and output for mass flow for use in institutional and industrial settings.
The Vortex meter gives 1.5% or greater rate accuracy with turn down up to 100:1. Vortex meters, which may be used for a range of fluids, are simple to install and provide reliable measurement over a potentially amazing turndown.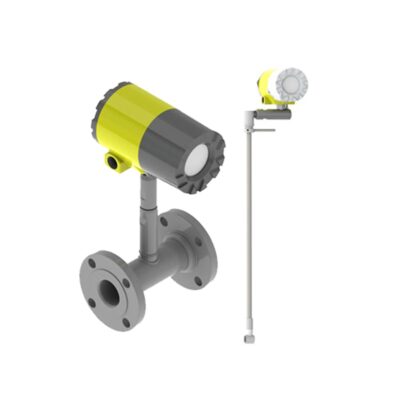 Wedge Flow Meter
In challenging fluid applications, wedge flow meters have all the advantages of differential pressure measurement. The meter can be utilized with cement, asphalt, tar sands, spent water, sludge, bottom flow, fracking fluids, high viscosity fluids, slurries, and other contaminated or abrasive fluids.
An inserted wedge restricts flow and creates a differential pressure inside the cylindrical meter body. The meter's subsequent measurement has a repeatability of 0.2% and accuracy of 0.5%. Low Reynolds numbers and measurements across the whole working range are included.